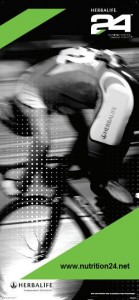 Herbalife 24 a comprehensive range of performance nutrition consists of seven products that allow athletes to customize their nutrition program based on their specific sport, day-to-day needs, and training demands. Each product is tested for banned substances (anti-doping testing) by an independent third-party laboratory (BSCG.org) assuring athletes that what they put into their bodies is exactly what is listed on the label. The line contains only natural colours, flavours, or sweeteners.
The Herbalife 24 line includes:
Formula 1 Sport: Dairy-based protein shake with glutamine, and 20 vitamins and minerals which lays a solid foundation for performance.
Hydrate: Advanced hydration with bioavailable electrolytes, less than 15 calories and only 1 g of sugar.
Prepare: Pre-workout supplement with nitric oxide precursors to support blood flow to working muscles.* Contains creatine.
Prolong: A during-workout supplement to sustain performance with a dual-source carbohydrate blend and electrolytes.*
Rebuild Endurance: Post-workout recovery shake with higher ratio of carbohydrates to protein for endurance athletes.
Rebuild Strength: Post-workout recovery shake with higher ratio of protein to carbohydrates.
Restore: Night time supplement to combat exercise-induced inflammation.* (Launching later this year)
Herbalife is the Official Sponsor and Nutrition Partner of the 2011 World Football Challenge and Herbalife24 is the Official Sports Drink of the 2011 World Football Challenge.